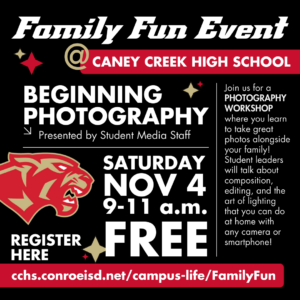 The school will be hosting a Family Fun Event on Saturday, Nov. 4, 2023 from 9:00-11:00 a.m.
In this free, student-led event, Student Media will host and guide families through a basic photography class learning about composition and editing. 
These events will be held once a month, and will allow students and families to come together for family-friendly fun. 
Story continues below advertisement
For more information, please contact Stephen Green in Room 3415 or email [email protected]
To register for the event please go to https://cchs.conroeisd.net/.